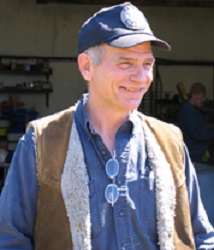 Mike McGowan has spent his whole life in Dixie, Louisiana.   He cut his teeth in the metal industry welding for his father in the family shop.   He worked there until 1987 when Backwoods Smoker became his full time job.
Mike has lived in the world of BBQ his whole life; he created the first Backwoods model, a patio, after years of listening to people talk about BBQ and the various different cookers that they were using.   He paid close attention to the things that they liked and also the things that they DIDN'T like about their cookers, and set out to make a unit that would take all of the experience that he had picked up on and perfect it.
The result was the first patio model.   He made one for one of his friends who had nothing but great things to say about it.   Eventually more and more people started wanting one, and even came up and started asking Mike if he could do special orders.   Mike would listen to a person's needs, then create a unit that would do everything that the person would need.   Backwoods Smoker quickly became a household name in Louisiana, and Mike was now splitting his time between his Dad's shop and creating Backwoods units.
If you were to ask Mike what it was that turned the tide for Backwoods from a part time job into a full time lifelong occupation, he tells a story about a show that a local news station did on him and his cookers.
"It was probably back in 1986 or so, the local television channel had a guy who would do 30 minute shows on local business people, and how they gave back to their communities.   The guy had seen one of my cookers and had eaten some BBQ off of it, and was really impressed by the job that it did.   He called me up and asked if he could do a show on my business.   I said sure, and spent an afternoon with him.   Well, a truck driver from Missouri was passing through the area, and caught the show when it aired.   Along with being a truck driver he also owned a BBQ restaurant in Missouri, and was very interested in getting a new cooker for his business.   He contacted me, and asked me for a cooker which today would be the equivalent of the Professional.   I made it for him, and he brought it back to his business and got great results.   Well, the people he got his sauce from saw it, liked it, and wanted one for themselves, so I made them one too.   They also competed pretty seriously, and took it with them to Memphis in May, well, they ended up winning grand champion on that cooker, and really that is what got the ball rolling, after that Memphis in May competition, everyone wanted one of my cookers."
Mike switched over to full time in 1987, and since then has been working on nothing but making the different Backwoods Cookers.   Over the years he has expanded his model offerings, and is constantly looking to improve the line to make the Backwoods Cookers simply the best water smokers on the market.
The company has grown from a single man operation to a shop of 10 workers, some full time, some part time. If you have ever called Backwoods, chances are good you have spoken with his assistant, Kathy. She helps Mike keep everything working smoothly, and loves to talk with people who are interested in getting a Backwoods Smoker.
Also, Chase Lummus has been a part of Backwoods since he was a kid helping out and working in the summer time, when it was just Mike and him making one smoker at a time. Now, he keeps the shop lined out and working efficiently. When he has time he tries to do a little competing on the weekends.
The great thing about Backwoods is the willingness that Mike shows to talk with his customers one on one in phone conversations. He will talk with you as long as you need, answer any of your question, and make recommendations based on your needs and wants. He is very concerned with giving people the best value for their money.
Give Mike or one of the gang a call if you need help or just want to talk about Backwoods Smokers.
We take great pride in our products
We are open to feedback and can answer any questions you may have about our products.