We do several appetizers for our parties and events and find that the ABT's are by far the most requested appetizer that we cook. To prep a lot of these treats at a time are labor intensive and we have come up with a method that works well for us for a large amount of these great treats. Using this method and recipes, I can prep about 60 an hour and with one helper, about 100 an hour.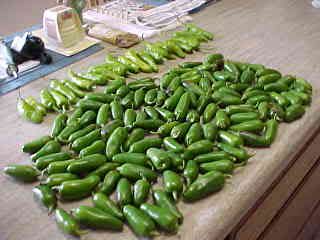 This cook was done with both a hot and mild pepper as it was for a mixed crowd including some children.
We do the ABT's with three different meats and they include chopped pulled pork, or chopped pulled beef, or chopped pulled chicken. We add finely chopped onion, cream cheese, rub, and then wrap them with a half slice of bacon.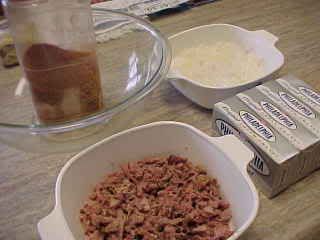 We prep these in batches of 80 at a time and the picture shows our setup for the first 80 pieces.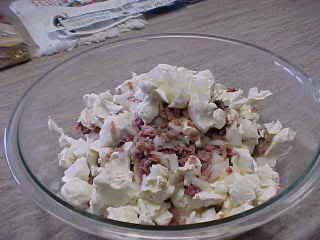 We mix the ingredients in a large bowl and make a large cheese ball which is very easy to work with when stuffing the peppers.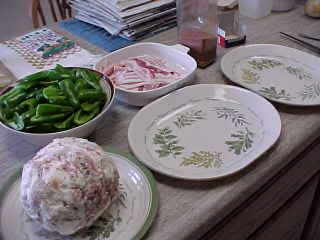 The above picture show the start of the line for stuffing the peppers.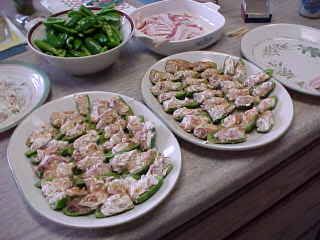 After they are stuffed, we sprinkle on the rub and then wrap each pepper half with a half slice of bacon and the pin it with a toothpick.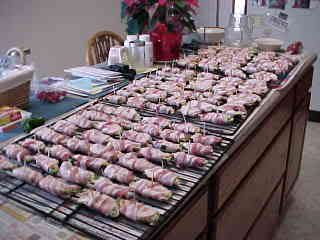 Here are three racks ready to go on the Backwoods cooker.
This is a plate of that great appetizer just as it came out of the cooker.